Lisa - Veterinary Technician
I was born and raised in the Tri Cities. I graduated from Yakima Valley Community College, Veterinary Technician program in 2010 and started working at Vista Veterinary Hospital in 2011.
I have three wonderful mini-dachshunds named Heidi, Rayna, and Sunny, a cat named Porche and Whiskey, a black and white paint. During my free time, I love to go horseback riding, taking my dogs for walks or just relaxing with a good book.
Robin - Veterinary Assistant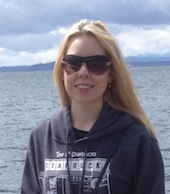 Robin was born and raised in Moses Lake, WA. She has always loved animals and knew what she that she wanted to go into Veterinary medicine. She began volunteering at a veterinary clinic after high school and then began working as a veterinary assistant. In November 2010 she moved to the Tri-Cities area and began her career at Vista Veterinary Hospital.
She enjoys spending time with family and friends, and going on trips to the ocean. She also just recently got married this past year!
Mary - Licensed Veterinary Technician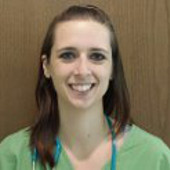 Mary is a graduate of Yakima Valley Community College Veterinary Technician program. She has worked as a Veterinary Technician for 14 years with 2 years previous experience as a Veterinary Assistant. She is also certified to perform abdominal ultrasounds.
She resides in Benton City, WA with her husband, daughter and 1 Labrador Retriever, "Butterscotch".
Aubree - Veterinary Technician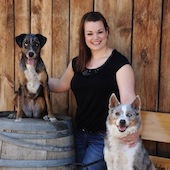 Born and raised in Tri Cities. Graduated from Yakima Valley Community College veterinary technician program in 2007 and has been working as a Veterinary Technician for 5 years. Aubree has 2 heeler mixes, Cajun and Ringo, both very active and keep her busy. She enjoys spending time with family and her dogs, hiking, fishing, and snowboarding.
Kajsa - Veterinary Technician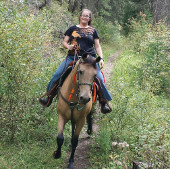 Hello my name is Kajsa, I was born and raised in Seattle. I moved here in 2001 and have been here ever since! I graduated from the University of Washington in 1993, then went to Norway for 4 months. It was there that I decided that I wanted to be a veterinary technician and so I came home and graduated from Pierce Collage with an A.A. in Veterinary Technology in 1996.
In my free time I enjoy riding my horses, and walking with my dogs. When it is too cold outside to play, I do handicrafts to pass the time.
Theresa - Veterinary Technician
Theresa graduated from Cascade High School in Leavenworth, WA then attended Haskell Indian Nations University in Lawrence Kansas. Her career as a Veterinary assistant began in 2002. She moved to the Tri Cities in 2010 and began working at Vista Veterinary Hospital.
In her free time, Theresa enjoys spending time with her family, fishing, hunting and riding horses.
Amber - Receptionist
Born and raised in the Tri-City area where I graduated from River View High School and CBC. I decided to have a "grand adventure" and spread my wings so moved to Spokane Washington. I lived up there for 4 years and decided to move back home-the Tri-Cities. What the people in Spokane termed the "desert".
In my spare time I love to read, look for antiques and work outside in the yard.
Liz - Receptionist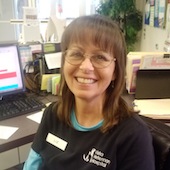 I am originally from Barrenquilla Columbia, South America. My father was born and raised there. He was offered employment at Boeing so we moved to Washington when I was 2 years old. I have been in Washington ever since. I love this state and have moved back and forth from the west side to the east side a couple of times. I much prefer the weather on the east side. I have always had a love for animals, owning several dogs, cats and horses through out my life. I found my calling in the Veterinary business almost 15 years ago. I have been here at Vista Veterinary Hospital for almost 1 year and love it. I hope to be here for many more years. I've really enjoyed meeting all of the clients, old and new.
Sharon - Receptionist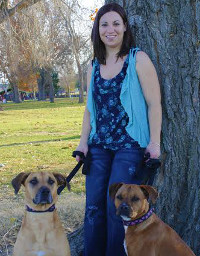 I was born and raised on the West side of Washington State and earned a Bachelor's degree while attending Western Baptist and Grace College. Shortly after graduating I met my husband, whose work brought us to the East side where we have been very happy with the people and weather - and less traffic! I started in the Veterinary field at Sumner Veterinary Emergency Clinic about 6 years ago and have been at Vista Veterinary for just over 3 years. Working with animals has always been a childhood dream of mine, and I've always had a pet: from dogs, cats, and horses, to fish, water frogs, and hamsters. I currently have 2 dogs, Lucy and Leila, and 2 water frogs, Rocko and Dupree. Last summer I had my first baby girl, Raelyn, and she has become the joy of my life. For this reason, I enjoy working at Vista part-time and am so glad to remain a part of the family.
Carrie - Receptionist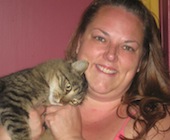 I was born in Texas, but my family moved to Tri-Cities shortly after I was born. I have lived in the Tri-Cities all of my life. I grew up on a farm and attended Kiona Benton High School. After that, I attended Columbia Basin College. I have 6 children and 2 grandchildren, and could not think of a better place for my husband and I to be raising our children. I started my career with Vista Veterinary in August of 2013 and have learned so much thus far and look forward to much more in the future.
Karen - Kennel
I was born in Pasco and have lived in Benton City on a farm all my life. I graduated high school and within a year, started working at the Battelle Toxicology North West Research Facility. When I was in my 28th year of employment, Battelle decided that they were moving the facility back to Columbus Ohio. At that point, I was still too young to retire. Then I found an ad for Vista Veterinary Hospital. I took a chance and applied. How lucky was I when they offered me a job to help take care of other people's animals every day. What a dream! I am proud to be an employee of this hospital, taking care of client's pets, helping in the clinic, and learning new things. It is my goal to make every animal that comes in comfortable and happy. I mostly work in the kennels and wouldn't have it any other way. Life has given me another chapter for my book and my goal is to do the very best at whatever I'm doing. I am excited that I will be learning new things on a daily basis.
Nikki - Kennel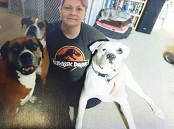 My family moved from California when I was 6 years old. I have lived in the Tri-Cities ever since. I graduated from Pasco High School in 1995. I have always had a passion for animals, having both cats and dogs growing up, I knew that I wanted to work with them!! I finally got my big break working as a bather for Kathy's Kritters, a receptionist/assistant at Blue Cross Animal Hospital, and as a Histology/Animal Care Specialist at Battelle/PNNL. I continue my journey at Vista Veterinary Hospital and I enjoy working and taking care of your animals in the kennel!!
Carlos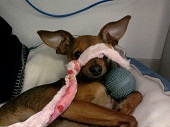 Hello, my name is Carlos. I am a Chihuahua mix puppy. When I was only 8-months old I was found outside a gas station in a box. I was being abused by some kids throwing rocks at me. A nice man felt bad for me and took me home. While at his home in my curiosity, I ran into the street and got hit by a car. The nice man and his wife were not able to keep me and couldn't afford to take care of my injuries. They brought me here to Vista Veterinary Hospital and signed me over to the kind staff to care for me.
The doctors fixed my crushed pelvis, neutered me and gave me all my shots. I was given my name Carlos because I went up against a car and well-I lost. What can I say the name stuck and I answer to it whenever somebody calls me. I was put up for adoption, with many people interested in taking me home, but as it turns out I was home. It became obvious that the best home for me was here at Vista where I'm loved every day. I love to meet all the nice clients who ask about me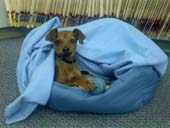 I get to go home with one of the doctors that fixed my hip. Her family is wonderful! I have a new doggie friend and also Marvin the cat. We love to chase each other.
My days are spent with my large extended family including many aunties that all love me very much. I lounge around in the reception area most of the time. I have plenty of food, water, and all the treats I can eat. I still walk with a limp but I am not complaining, this is a good life to have.
Love, Carlos